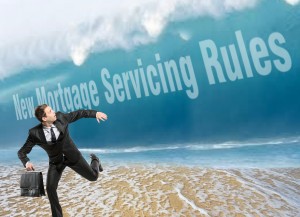 Unless you've been living lately on one of the remoter planets in our solar system, you've likely been inundated with a flood of information about the new mortgage servicing rules due to be implemented in January 2014. We've asked Coppelia Padgett, senior analyst at AffirmX, to take us through what it all means a step at a time.
In this series of articles, Coppelia is going to look at the new amendments in the Dodd-Frank Legislation that are collectively referred to as the Mortgage Servicing Rules. The rules, rather than being new, are actually amendments to Regulation X and Regulation Z. Grafting these rules onto the former RESPA and Truth in Lending framework contributes significantly to the confusion about them. We will set about to clear up that confusion with this series, which will consist of the following:
First up, the Small Servicer Exemption.