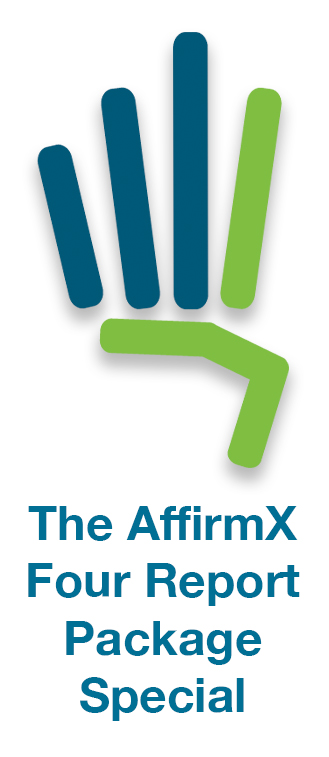 To help new clients experience how easily AffirmX can help reduce risk management workloads, anxieties and costs, we are offering a limited number of our Four Report Packages with special pricing.
The package includes four reports, each of which is critical to a healthy compliance program:
BSA Independent Audit
Annual ACH Independent Audit
Annual SAFE Act Independent Audit*
Website Compliance Review
*May be omitted with a price reduction if mortgages are not offered.
In addition to receiving these four critical reports annually, the package includes a host of other services, including:
Dashboard-delivered self-review templates with scheduled reminders
A subscription to our AffirmX Compliance Reporter, Risk InboX Plus, and Risk Watch Central
Access to our team of compliance experts
Discounts on webinars and training programs
Special Pricing
Each report leverages the power of the AffirmX patented technology, which utilizes a cloud-based platform to make the exchange of data between your institution and our experts comfortably manageable, resulting in minimal disruption to your staff and a major pricing breakthrough for your compliance budget.
We are offering a limited number of the AffirmX Four Report Packages at special pricing. Moreover, we don't leave you guessing; pricing is based on your asset size, using the following sliding scale, so you'll know exactly what you'll pay.
Less than $50 million: $2,399
$50-$100 million: $2,799
$100-$200 million: $3,249
$200-$300 million: $3,649
$300-$400 million: $4,049
$400-$500 million: $4,449
$500 million or more: Call for pricing
To book your AffirmX Four Report Package, or for more information, contact our sales team or call toll free at 1-888-972-3624.
Note: Special pricing available only on packages booked on or after Jan. 1, 2018.