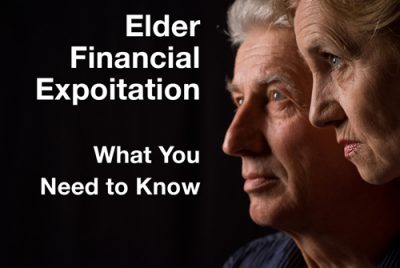 Advances in technology make it difficult to know what is safe and who to trust, especially for the elderly population. This makes them prime targets for fraudsters. In fact, it is estimated that about 5 million seniors were swindled for nearly $3 billion in the last year alone. Taking this down to a more individual level, the average loss for an adult over age 70 was nearly $42,000, according to a recent review of Elder Financial Exploitation Suspicious Activity Reports.
Financial institutions are on the front lines when it comes to detecting financial exploitation against senior citizens, while at the same time, having obligations to protect the privacy of members and their ability to conduct lawful transactions.
Let's take a look at what are your financial institution's obligations are when it comes to detecting and reporting on elder financial exploitation.
In 2016, the Consumer Financial Protection Bureau published a milestone advisory for financial institutions in response to the growing numbers of elder financial exploitation.
This document was specifically addressed to banks and credit unions, which the CFPB considers uniquely positioned to detect that an older account holder has been targeted or victimized. Six categories of voluntary best practices were identified:.
The first is prevention, which calls on financial institutions to develop and implementi procedures for protecting account holders from elder financial exploitation.
The second is training, that urges internal training to detect and respond to suspicious events targeted against elders.
The third is technology. Banks and credit unions are encouraged to harness technology to detect elder financial exploitation.
The fourth is reporting, including reporting of all suspected cases to relevant authorities at federal, state, and local levels.
The fifth is protecting, which encourages development and offering of age-friendly services.
And finally, collaboration. The advisory calls for financial institutions to collaborate with other stakeholders, such as law enforcement, adult protective services, and other service organizations.
Through all of these best practices, there is naturally an underlying tension as financial institutions take seriously their need to protect the privacy of the sensitive financial information involved in such reporting and collaboration.
In 2018, another significant development occurred that specifically addressed this tension. The Senior Safe Act established that financial institutions are not liable for disclosing suspected instances of elder financial exploitation if, and this is an important "if," the institution regularly conducts training for employees on identifying elder financial exploitation.
This change has made a big impact. Since the act was passed, U.S. banks filed a record 24,000 elder financial abuse suspicious activity reports. That was more than double the number in 2013 and 12% higher than in 2017.
For the immunity provisions of the Senior Safe Act to apply, the training must cover:
Those who serve as a supervisor or in a compliance or legal function (this includes the BSA officer).
Those who may come into contact with a senior citizen as a regular part of their duties, and
Those who may review or approve the financial documents, records, transactions of a senior citizen.
The training itself must:
provide instruction on how to identify and report the suspected exploitation internally and, as appropriate, to government officials or law enforcement authorities, including common signs that indicate the financial exploitation of a senior citizen;
discuss the need to protect the privacy and respect the integrity of each individual customer; and
be appropriate to the job responsibilities of the individual attending the training
Those who receive the required training are protected against liability, provided they, at the time of disclosure were:
One, serving in their official capacity of the financial institution as a supervisor or in their legal function (such as a BSA officer), and
Two, made the disclosure in good faith and with reasonable care.
Note that the law does not provide immunity to lower-level employees who may have observed the suspected elder abuse therefore it is critical for internal processes to report the matter through an employee eligible for the immunity.
The key tool for reporting suspected elder financial exploitation is the Suspicious Activity Report. The CFPB has observed that, in most cases, the Elder Financial Exploitation SARs do not indicate that the financial institutions are also reporting the activity directly to adult protective services and law enforcement. The CFPB is encouraging financial institutions to share their SARs more broadly with allowable agencies to better fight this growing crime area.
Resource List