The first in a series of posts on the new mortgage servicing rules.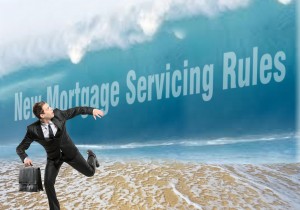 The CFPB has issued the Final Rule for Mortgage Servicing, which will be effective on January 10, 2014. Among the numerous changes to mortgage servicing, there are several significant amendments to Regulation X (RESPA) and Regulation Z (TILA). On the compliance tsunami scale, you might say we're looking at a 50-foot wave here.
But before we head for the hills, it's worthwhile to make sure our island is even in the tsunami's path.
In order to limit the burden on small servicers with all the new regulations, CFPB created the Small Servicer Exemption. Servicers who qualify will be excluded from some (but not all) requirements of the Mortgage Servicing Rules. Specifically, a small servicer may be exempted from the following sections completely:
Policies, Procedures and Requirements (.38)
Early Intervention (.39)
Continuity of Contact (.40)
Loss Mitigation Procedures (.41)
Periodic Statement (.41)
The small servicer will be able to be exempt from some portions of these two sections as well:
Force-Placed Insurance (.37)
Escrow Accounts (.17 and .34)
To qualify for the Small Servicer Exemption, the institution must meet certain criteria listed in section 1026.41(e)(4)(ii). The small servicer exemption is determined each calendar year based on loans as of January 1. The servicer (plus affiliates) must service 5,000 or fewer mortgage loans and the servicer or affiliate must own or originated all 5,000 loans. That means the servicer cannot service any loans they did not originate or own to qualify for the small servicer exemption.
What mortgage loans count in the 5,000 maximum count? Mortgage loan is defined in section 1026.41 (a)(1) to mean a closed-end consumer credit transaction secured by a dwelling. The institution need only count loans that meet this definition. Reverse mortgages or timeshares may be excluded from the count.
What happens when a servicer goes over 5,000 loans? The servicer then is no longer able to claim a small servicer exemption. The servicer has six months or until the next January 1 (whichever is later) to comply with the above regulations.
A servicer may also qualify for the small servicer exemption if the servicer is a Housing Finance Agency as defined in section 1026.41(c)(4).