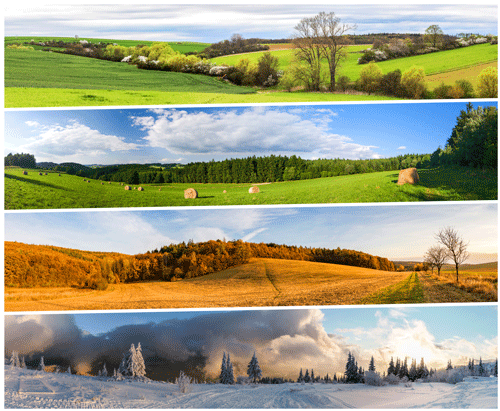 Originally published on CUinsight.com.
We're right in the heart of winter. When it comes to feelings about winter, there are two types of people: those who love it, and those who hate it (and I suppose we could add a third category for those who don't care because they live somewhere winter doesn't actually exist). If you happen to be one of those who hate it, you know you just have to wait and survive the two or three frozen months for spring to arrive. And once spring does arrive, you aren't going to throw away your sweaters and scarves, because you know that however much you might wish the warm weather will never go away, winter will just keep coming back every year.
The regulatory climate experiences similar seasonal changes. With the change in administration, we're also witnessing a change in the regulatory climate toward the lighter, less-stringent end of the spectrum. But could this change actually create headaches for credit unions? It can if you are the one responsible for compliance.
If compliance falls upon your shoulders, you can be sure that all your co-workers are well aware that the regulatory environment is changing. Some may even feel like they can toss their regulatory winter wardrobe in the trash because it isn't needed anymore. But what most won't appreciate as well as you do is that a shifting regulatory environment is not the same as an environment without regulations.
Compliance officers often have a difficult enough time in creating and sustaining a culture of compliance, even during periods when regulations and regulatory scrutiny are on the upswing.
But with the change in administration, compliance officers will have to be responsible for not only maintaining compliance that is undergoing change, but they'll have to try to do it in a climate where there could be a tendency on the part of their colleagues to be too lax in their compliance vigilance.
The thing with seasons is they tend to cycle. And while regulatory seasons tend to last longer than a typical earth season, they can cycle quickly at times—sometimes in as little as two years. But evidence of compliance failures can last much longer. If there's anything the post-financial-crisis fallout has taught us, it's that federal regulators have long memories. They're not afraid to reach back and hold financial institutions accountable for their compliance with regulations that were on the books at the time, regardless of what the climate was.
So how can those with compliance responsibilities guard against compliance complacency in this shifting political climate? Here are four useful suggestions.
Keep Compliance a Priority
Make sure your board emphasizes to your credit union that compliance remains a priority and that the credit union will re-calibrate its compliance program as changes come along. But also point out that the obligation to remain compliant to all existing policies and practices stays in place until otherwise directed.
Manage the Shifting Environment
Remember that a sound compliance program is about managing the dynamics of a constantly shifting regulatory environment, whether it is moving up or down. That's because there's one thing that is certain in the regulatory space, and that's that compliance is constantly on the move. Those who tend to survive in the compliance game are those who have a program that proactively keeps tabs on what is actually happening. Expect this to be a season of many changes, but work to cut through the rumored changes to identify the actual changes.
Be Patient
Recognize that the initial attention may be focused on addressing changes that were in the works, but were not yet official. And while one party now holds both the legislative and executive branches, its majority is not so overwhelming that it has free rein. If pushed too far, the minority party is expected to dig in its heels and create gridlock. As such, changes are expected, but they may be more measured than some had hoped.
Don't Press the Limits
Expect that some financial institutions may see this as an opportunity to press some limits when it comes to interacting with consumers. Be proactive in doing your part to position your credit union as one that is financially strong while protecting consumers against the kinds of abuses that can subject our industry to radical shifts in the regulatory environment in the years to come.
The one thing that's always sure about both the seasons and the regulatory environment is that they are always changing. They don't stay still for long. That's why it's much better in the long run to have a constant set of core compliance standards that you follow no matter the changes in regulatory environment.
---

Mike Stottlemyer is a Senior Internal Auditor with AdvisX who possesses Regulatory Compliance certificates from CUNA; Credit Union Compliance Expert (CUCE), Credit Union Enterprise Risk Management Expert (CUERME) and NAFCU, The NAFCU Certified Compliance Officer (NCCO). Mr. Stottlemyer, a former internal auditor and risk manager, has over 15 years of experience in the banking and credit union industries. Most recently he served as a Director of Risk Management and member of the executive team for a Maryland credit union with $250 million in assets. Mr. Stottlemyer holds a certificate of education in accounting and is currently a senior in the Criminal Justice/Homeland Security Bachelor of Science program at Liberty University, Lynchburg Virginia.